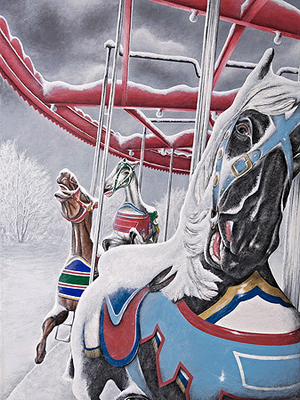 The Carousel
Originally conceived a dozen years before painting it, Michael studied and photographed carousels on his travels, the final inspiration being the one in New York City's Central Park. Capturing the wonderful, full-color vitality of a carousel, Michael presents it in a way seldom seen, frozen in a cold, stark winters day.
We are happy to share the news that the first edition of the carousel is now closed.
Congratulations to those of you who were able to acquire one!
Our affiliation with Wentworth Gallery offers a new edition. Please click on the Wentworth link for more information.