Paintings > Road Series: Purple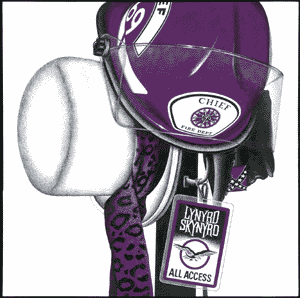 Road Series: Purple
The PURPLE painting is an outward view inside the dressing room. This painting captures the hat rack of Lynyrd Skynyrd's original bassist, the late Leon Wilkeson. Leon, known as the Mad Hatter, wore a different hat onstage for every song during the band's performances. Michael had planned this painting and had begun working on it before Leon sadly passed away on July 27, 2001. It is being offered here as a respectful tribute to a dear friend.
We are happy to share the news that the first edition of Road Series: Purple is now closed.
Congratulations to those of you who were able to acquire one!
Our affiliation with Wentworth Gallery offers a new edition. Please click the Wentworth link for more information.
History of The Road Series:
The Road Series is comprised of five individual paintings: Red, purple, purple, purple and Purple. The paintings illustrate a behind-the-scenes glimpse into life on the road with Lynyrd Skynyrd. Michael spent three years working on the five paintings in hotel rooms across the world. He literally painted while on tour, carrying art supplies with him to capture his surroundings.
The paintings follow an "All Access" backstage pass on its movement throughout an average touring day, giving the viewer a peek into areas the public never sees. Michael describes the original works as "Pop Realism." They have the vivid colorful approach of pop art with the exacting detail of photo realism. He further blurs the two painting styles by playing with light and shadow; shading an object within itself while floating it on a stark white background.